Last week at the American Museum of Natural History, there was an awesome panel discussion entitled, Lonesome George and the Galápagos Today: What the Tortoise Taught Us.
Lonesome George, a Pinta Island Galapagos tortoise, died in 2012. He was the last of his kind, and with his death, another species went extinct. For years, scientists had tried to get him to mate, in hopes of passing on his genes and continuing the line, but to no avail. George lived up to his name, and was really a cranky old man in tortoise form. He never successfully mated with another tortoise before his death.*
But even while he was still alive, and especially now, after his death, Lonesome George was beloved world-over and has become a symbol of the fight for conservation. In life and in death, he serves as a great way to introduce people, particularly kids, to the troubles and threats animals and the environment are facing everywhere.
The panel featured a few people: Dr. Linda Cayot, science advisor for the Galapagos Conservancy; Johannah Barry, founder and president of Galapagos Conservancy; Arturo Izurieta, Director of the Galapagos National Park; Professor James Gibbs from SUNY College of Environmental Science and Forestry; and it was moderated by AMNH's Chief Conservation Scientist, Dr. Eleanor Sterling.
It was a lively and interesting conversation, focusing not only on George but on the Galapagos overall, their history and future, with perspectives on tourism and conservation in general. It was great to listen to the various viewpoints, as all the participants have worked on or visited the islands multiple times. My favorite part was listening to Dr. Cayot's stories, as she was probably the one who knew George the longest from everyone there. And "many of those years," she said, "he was a pain." Which, of course, made the audience laugh.
Having worked on the islands for the past 30 years and seeing a lot of the damage that we humans have done, Dr. Cayot nonetheless has some hope. But she wanted to make sure we didn't just focus on George's story, but take his message and apply it to other species – "We need to do the work before there's only one left."
I thought Johannah Barry described conservation in the most truthful way:
"Conservation is a messy business. It's two steps forward, five steps back. It's a messy process. […] You can't always plan it."
After the panel, all the attendees were allowed to head up to the fourth floor of the museum, where we got to see Lonesome George in the "flesh." He'll be on exhibit at the AMNH through January 4, 2015, after which he'll be returned to his native Ecuador. Check out this article from the AMNH to learn more about the taxidermy process.
As you might imagine, initially it was a feeding frenzy as everyone crowded around the exhibit, trying to take photos of and (oddly enough, I thought) with George. But as the crowd started to disperse, it was possible to take a moment to reflect and contemplate what this thing in front of me meant. It was really weird to think that a couple of years ago, that thing was a real, breathing creature. And now it's just another victim of what we humans have done and are continuing to do to the earth.
I hope that Lonesome George's legacy lives on. That's really why he was preserved and I hope people all over the world hear his message.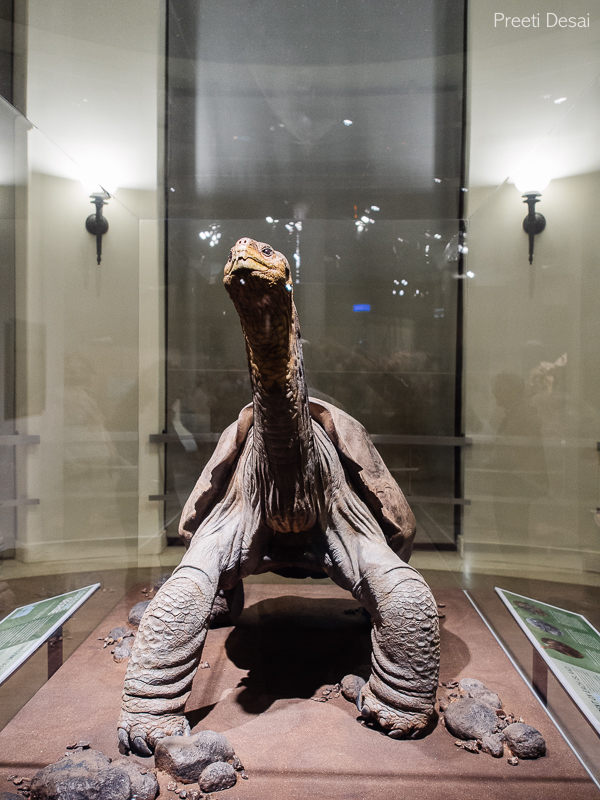 Lonesome George in all his glory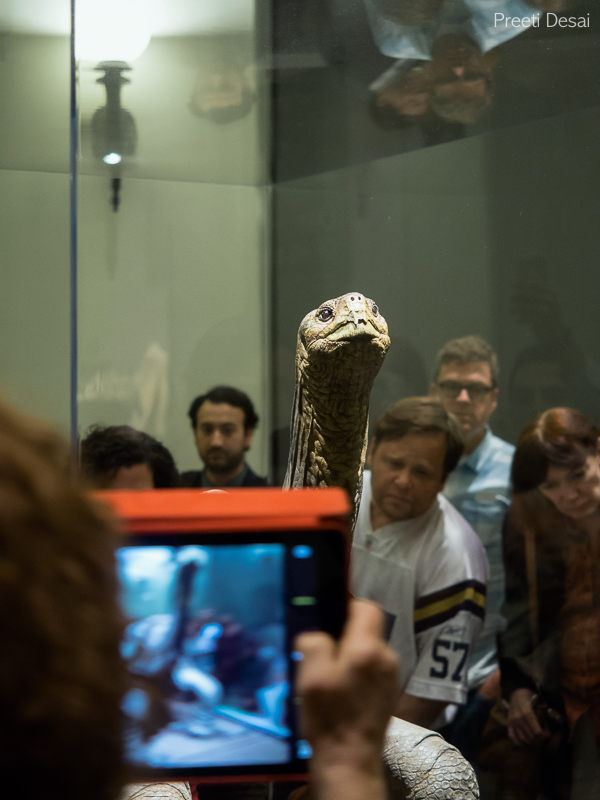 Lots of photos being taken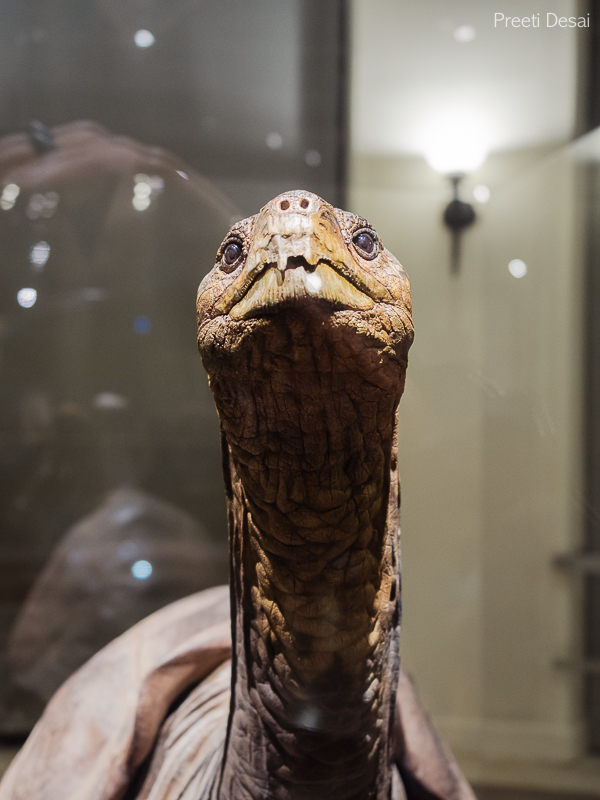 Amazing detail

Just as when he was alive, George's front left foot has a nail missing

The taxidermy process used George's real skin and shell
*The story is a bit more complicated than this, and I recommend this awesome Radiolab episode for more, or this book, Lonesome George: The Life and Loves of a Conservation Icon, by Henry Nicholls. I have yet to read it but I'm planning to soon.